The Ford OEM Trunk Organizer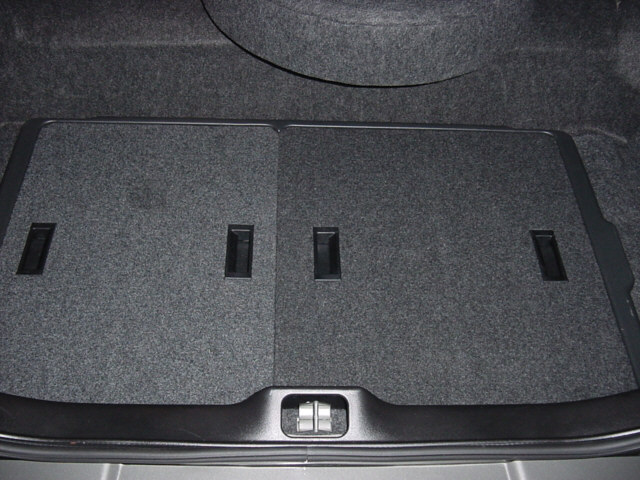 The new trunk organizer is a removable custom fitted module which, when closed, creates a level floor space from the one ledge on the left to the other on the right. There are 3 movable separators that can be fitted into a wide variety of position in order to create 4 appropriately sized compartments that can adapt to whatever is being stored. The access doors are formed in such a way that access to any of the compartments can be gained individually without being forced to remove the entire cover. The access panels on the right side actually fold in half so as to clear the protruding full sized, or temporary spare.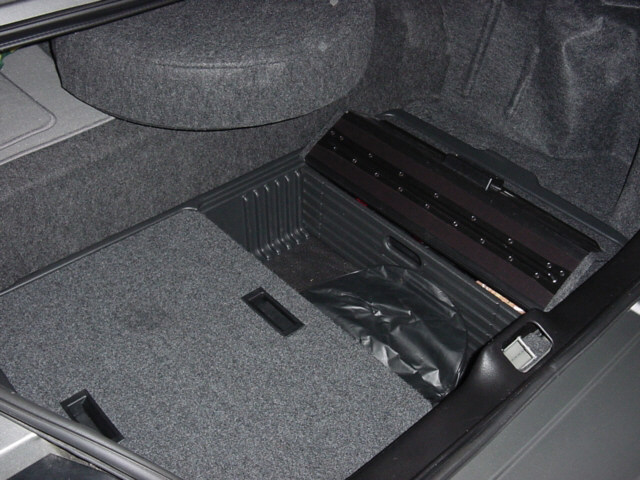 The access doors are reinforced on the underside as can be seen from the shot above, and carpeted in matching color and material for the typical Marauder, Grand Marquis, and Crown Victoria trunk compartment. The doors on the left do not fold in half as they have no obstructing spare tire in the way. One has to be sure to install this trunk organizer correctly. There is an embossed arrow pointing to the rear on the bottom, which should face toward the tail lights. The right hand side seems to be a bit larger to accommodate the twin bi-fold doors. Also included is a non-skid rubber mat designed to line the floor of the trunk organizer to prevent stowage items from sliding about.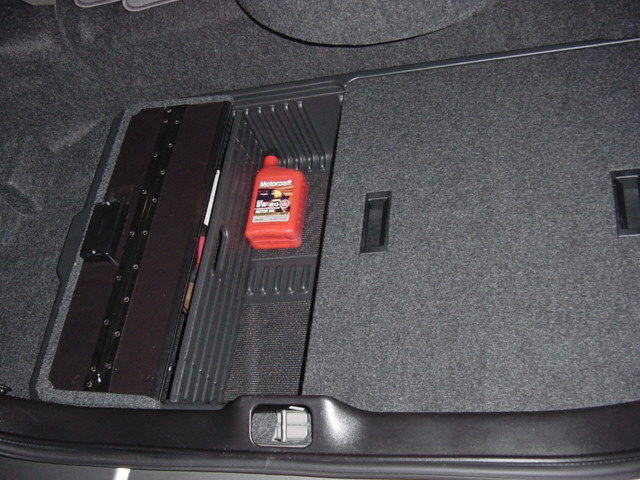 It is a terrific place to store jumper cables, trouble lights, miscellaneous tools, and other items that might other wise require some sort of unsightly caddy out in full view. The dividers are easily moved as can be seen, with large grip handles near the top. The even flat floor surface that is created is ideal of large bulky items, as can be seem below. Ordinarily this type of cargo would sit in the deep well, perhaps allowing one more. But as you can see here, there would be no problem fitting another 2 tubs into the trunk now. There is plenty of clean elevated room for suitcases, golf clubs and what have you. The floor that is created is very strong and would support any kind of typical cargo without any problem. As an added benefit, there is much less "lift over" when getting things in and out of the trunk. As you can see, the floor is now very nearly aligned with the top of the rear bumper. This would be perfect when hauling groceries or shopping trips of any kind.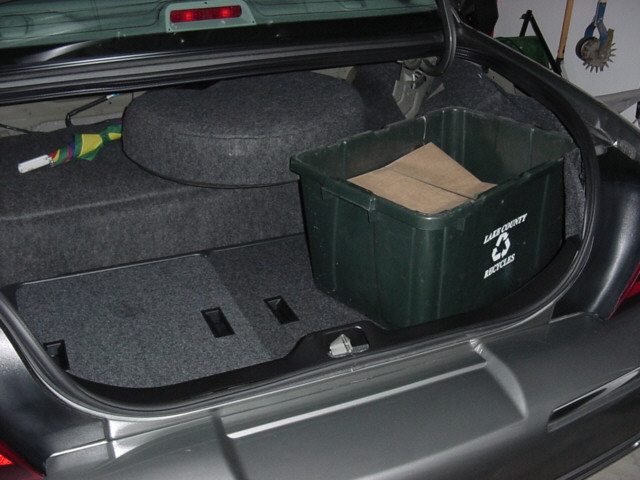 Another view below, showing the floor leveling feature.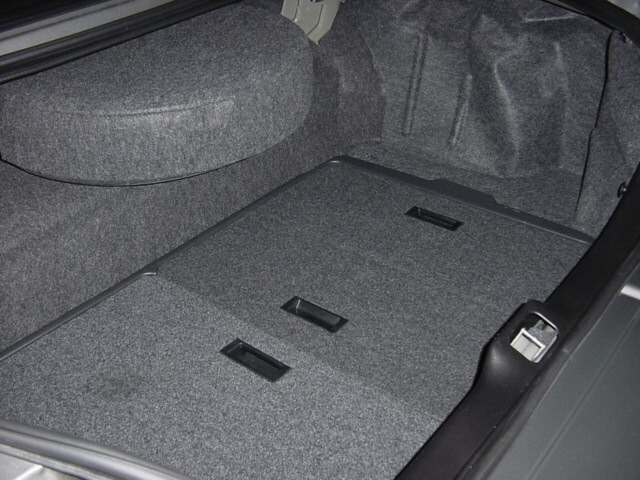 © RWG 2011, all rights reserved.