LSE:
The LSE model, built from May '01 to Dec. '02 for model years 2001-2003 was distinguished with 5 passenger, dual power bucket seats, center console with floor shifting automatic, air springs, HD shocks, rear swaybar and dual exhaust; the top of the line Grand Marquis in 2003. The LSE disappeared in 2004 and reappeared for the last time for the 2005 model year. (See rarity of the LSE)
Engine:
4.6L SOHC SEFI 8 239HP, new for '03: - A new engine knock sensor allows the engine computer to set the optimum spark advance for operating conditions, A 20 percent larger, six-quart oil pan extends the life of engine oil, A new variable-speed engine cooling fan is quieter overall than the previous two-speed fan.
Drivetrain:
4 spd., AOD, EC Automatic transmission, 3.27:1 Axle. New for '03: the exhaust pipe hangers are now mounted to the frame rails instead of a crossmember for better isolation and a new air intake and resonator improves airflow and reduces noise levels.
Chassis:
*Rack & pinion variable assist power steering, *new electronic brakeforce distribution system, and dual rate brake booster, *Frame updates: hydroformed front rails, new crossmember frame, *new monotube shocks at all 4 wheels. The shock absorbers are now mounted outboard of the frame rails, which allows them to better manage the unsprung mass of the axle. This reduces the transmission of road impacts into the car's structure and helps keep the rear of the vehicle firmly planted during cornering on rough roads or washboard surfaces.
Recalls:
*All 2003 Panther platform cars (Lincoln Town Car, Grand Marquis and Crown Victoria) had an issue with the rear axle. The only cars affected were some of those built before January 2003. Of those cars, the recall only affected fleet vehicles, meaning Taxi, Police and Livery use vehicles. The problem was that the axle may not have been heat treated properly causing premature wear. Usual Axle/bearing check will reveal a problem. (Noise or play in rear wheels) This was sometimes treated as a silent recall, and handled by the dealership on non-fleet vehicles.

* Timing chain guide. This affected all Grand Marquis and Crown Victorias from 2000-2003. Excessive wear and noise. (metal and nylon grit in oil) This recall is already done if your car has these markings on the left and right valve covers.

* Steering shaft and u-joints: This recall was initiated in 2014, but only covered Panther platform cars back to 2005, although 2003-4 also have the exact same setup. Failure of this assembly was due to rust and eventual breakage. It is replaced where necessary. Here's a shot of the assembly on my car. It has some surface rust, but is solid and ok. Difficulty steering, or noises while steering may indicate a problem here.

* LCM: This recall was with regard to the Lighting Control Module, and covers all Panthers up to 2011. This seems to be prone to failure. This recall DOES include the 2003, but only up to 15 yrs, and only in the event of failure. It is not replaced otherwise. Headlights, or other lights may not work when this module fails.
Car Built in November 2002, and put into service on 11/15/02
First owner purchased car on November 20, 2002 from Mathews Ford, Lincoln/Mercury in Sandusky Ohio.
I Purchased the car used on August 13, 2003, with 13,662 mi. from Nick Mayer Lincoln/Mercury in Westlake Ohio.
Currently (8/5/2019) has about 56,000 mi.
Ordinarily not taken out if the roads are wet (at least in winter,) but the first owner from Sandusky Ohio, drove through the car's first winter with perfect abandon causing noticeable corrosion, especially on the aluminum. I drive the car primarily for local errands, and vacation trips, as well as "Sunday drives." So far the car has been driven to Kingston N.Y. (Nov. '03) and Concord N.H. (Oct. '04). Charleston S.C. and Savannah GA. (Nov. '05 and '12). It's a fantastic highway cruiser!
View my maintenance log on SuperMotors.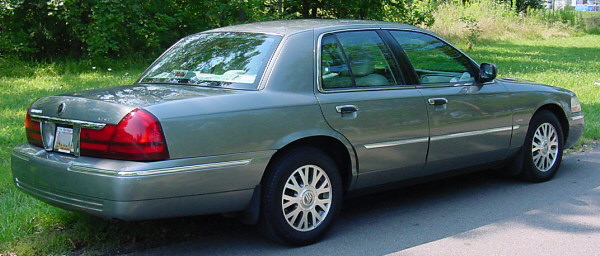 Problems and Anomalies:
So far the car has been functioning perfectly, but there have been a few issues, as with all cars. One of the first things I noticed was that the engine was getting greasy/dirty in the front with only 15 or 16K miles. I suspect the Power steering pump. Mercury Service says that is normal, but I don't believe it. They were good enough to clean off the engine compartment there, so I can keep an eye on it. Another irritant, was the way a tiny fly managed to find his way into the side marker light lens and get trapped. The dealer said it could not be removed without great cost, and that it would just dissolve on its own. But that is not happening. I know it is all pretty minor stuff.
Other fun facts:
Gas mileage is running about 23-26mpg on the Highways, and about 19-22 mpg overall
I am changing the oil and filter every 3000 miles with Motorcraft 5W-20 Semi-synthetic blend at the Mercury Dealership
The color is called Spruce Green Clearcote Metallic. (kind of a gray that leans to green in certain lights)
Options not installed are the moonroof, trunk mounted 6 CD changer, Safety side glass, side curtain airbags, and full size spare, all of which I believe were available on the 2003 LSE. I may get the trunk organizer someday if I ever have $200 to blow.

Done! (November 2005) The OEM trunk organizer was used in the Mercury Marauder, Grand Marquis and Crown Victoria. Currently listing around $285.00 with Ford Parts, better prices can be found if one shops around. I found mine for $212.00 with Bob Utter Lincoln Mercury Ford Dealer in Texas.
Done! (November 2010) Full size spare on LSE rim added. The LSE rim has a new Bridgestone Turanza tire mounted. The original never-used mini-spare (and cover) was sold.

The only OEM recognition of the LSE name from Mercury is in the special floor mats that come with the LSE.
There were 3,089 2003 LSEs built according to my Marti Report.
I am not trying to sell my car. I just thought there would be interest in this model, so I created this webpage.

above: the 2003 Grand Marquis LSE
Mercury's Press at the introduction of the LSE:
CHICAGO, Feb. 8, 2001 - Based on the success of its premier full-sized luxury vehicle, Mercury introduced the 2001 Grand Marquis LSE and the 2001 Grand Marquis Limited at the Chicago Auto Show today.
With sales of 122,572 in 2000, Grand Marquis celebrated its best year in a decade, and these two new vehicles will continue to boost consumer interest in the vehicle.
The Grand Marquis LSE package combines a finely-tuned suspension, 16-inch lacy-spoke wheels, and a new five passenger-seating configuration with center console. The result is a car offering exceptional handling and stability, sports styling details and amenities.
"The Grand Marquis LSE features a compelling balance of performance and comfort," said Jennifer Moneagle, Mercury Group brand manager.
The LSE delivers driving intensity, thanks to its dual exhaust system, 235-horsepower V-8 engine, and a specialty-tuned, firmer suspension.
To go along with that muscle, the LSE is complemented with a full range of amenities. The five-passenger leather seating features dual 8-way power seats, including lumbar and power recline and Electronic Automatic Temperature Control. The driver interface includes leather-wrapped steering wheel with radio, temperature and speed controls. The standard column shift is replaced with a leather-wrapped floor shifter mounted in a custom center console. The center console includes a large storage bin, padded armrest, concealed power point, dual cup holders and center stack mini-storage bin with cigar lighter. A rear armrest with dual cup holders also is standard.
"Building on an already successful platform, the Grand Marquis LSE offers both performance and classic refinement," said Tony Picarello, brand manager for Mercury Grand Marquis. "The size, power, comfort, convenience and luxury of the LSE are remarkable attributes, especially considering its price tag of $28,295 MSRP. I believe this package makes it one of the best values in its class."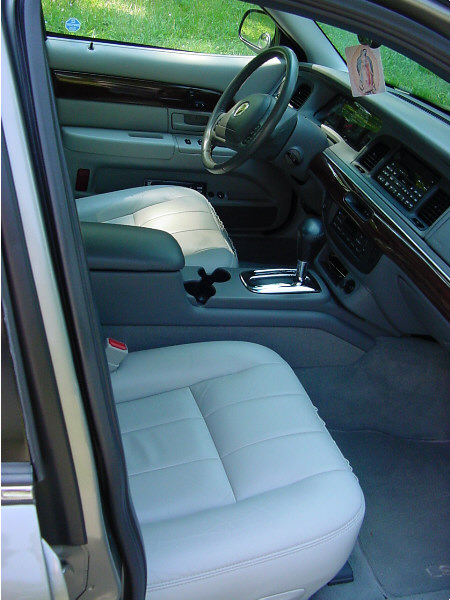 The Grand Marquis LSE's agile road manners, improved off-the-line acceleration and cornering are achieved through its dual exhaust for increased engine power, revised shocks and spring rates and stabilizer bars, rear load leveling air spring suspension, and a 3.27:1 rear axle ratio. Sixteen-inch lacy-spoke aluminum wheels with P225/60TR16 black sidewall "Handling" tires provide extra grip in the corners.
Introduced in mid-year 2001, the model was continued through 2002, and redesigned in 2003. It was discontinued for 2004, and was re-introduced in 2005. Technically, according to Ford it is a trim package, and is not specially designated in the VIN. All LSEs are Handling & Performance Package (HPP) versions of the Mercury Grand Marquis LS model. They are comparably equipped and outfitted with the Ford Crown Victoria's LX Sport model (with the exception of the rims)*, and they were both introduced at the same time. The LSE name in not new to Mercury, however, and was used on some earlier models.
2001-2002
LSEs are rare, and although an official count from Mercury has not been obtained. 2001s became available only as a mid-year entry, ensuring a low production number for them. 2002s were built throughout the entire model year, so it is likely that '02s had an even larger (or perhaps the largest) production run of any MY LSE. I would be interested in hearing from anyone that has a production number for the '01 (a mid-year only model) or the '02 LSE model years.
2003
According to my Marti Report, there were only 3,089 2003s built. That figure would include any "job 2" LSE's for 2003 which might have been sold in Canada (In the US, LSE's were not available after December 2002, as it was only built for the first half of the model year.) But I know for a fact that Job 2 (post-December 2002) 2003 LSEs DO exist! Those models can be easily identified by the absence of the digital clock in the dash's wood trim, the body color "B" pillar, and the manual, non-remote gas filler door.
2004
Supposedly there were no 2004 LSEs built. But, as it turns out, that was not true in Canada! There were 167 (most likely all for Canadian dealers) LSEs built, according to a Marti Report [provided by Kevin Glynn], making them the rarest year of all!
2005
LSEs were once again available in the US (their absolutely last year), so there were 533 LSEs built in 2005, another very low production year [Thanks to 'LTC_Dave' of CrownVic.Net for that Marti report.].
* The Crown Victorial LX Sport comes with 17" mag style wheels, whereas the LSE comes with the 16" split 9 spoke wheel. The standard LX uses this 16" split 9 spoke wheel with the difference shown in the link above.
© RWG 2019, all rights reserved.