Email Replies
Jan. 8, 2018

Ray, I couldnít resist commenting on your site as I think it well done and very informative!! Your vehicle is immaculate and Iím impressed by the details your site provides. Yes, the LSEís seem to be rare, but ironically thereís another one just like mine touring around in my neck of the woods. Regarding your LSE, you should be able to fetch a great price for the condition itís in particularly from someone who knows the product line. Iíd love to have this type of research performed on my vehicle.

Iím providing the links below because Iím forwarding a ďblind copyĒ to a Ford Dealer representative whoís assisted me in remedying the vehicles mechanical deficiencies as they may be too interested in your webpages.

http://mercurygrandmarquislse.com/index.html <-Your Link

https://www.cargurus.com/Cars/Discussion-t30601_ds498948 <-CarGurus Thereís a great deal of information regarding the LSE on this blog. Some is off-topic and most of the information is questionable.

I located a site providing detailed history of the 4.6L engine. You may find it informative. http://www.curbsideclassic.com/blog/engine-history-the-ford-4-6-liter-v8/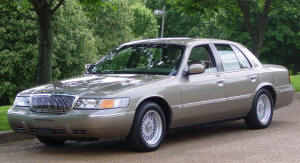 I purchased my 02 LSE new in May of 2002 and is now approaching 16 years of reliable service. The paint scheme is remarkable in that depending on surrounding light conditions the car seemingly changes color. I fully detail this vehicle twice annually (photo DSC00073.JPG) and since the date of the photo (August, 2011) Iíve added tinted windows, installed manufacturer contoured splash guards, installed chrome tips each exhaust pipes and exchanged Goodyear tires with Michelin Defenders. The Michelinís vastly improved the ride and handling characteristics and tire/road noise was noticeably reduced. My vehicle just turned over 94,XXX miles and I recently completed nearly $2,600 in badly needed repairsÖ and Iím not quite finished $$$. At this stage of my lifeís journey, I feel my efforts are substantially more cost effective than the purchase of any new car. Iíve driven and owned many new cars and none of them compare to this LSE. I intend on getting another 100,000 miles out of it. By then Iíll be much older and greyer than I am now J

My 94,000 mile maintenance accomplished by this dealership included:

Replacement of upper and lower ball joints including an alignment (all boots were torn)
Power flushed the engine cooling system
Performed 100K tune up
Performed complete brake fluid flush
Turned the front rotors for more even braking
Performed a differential flush
Replaced serpentine belt
Replaced oil pan gasket, oil sending unit and oil filter adapter plate (these developed leaks)
Replaced windshield. (accidentally cracked by dealership and they covered the replacement cost)

This list excludes all previous maintenance actions.

Iíve always found the vehicle to accelerate rapidly at all speeds and conditions. Iíve previously owned cars equipped with 318HP, 350HP and 425HP engines and this 4.6L engine doesnít stand still despite the gross weight of the vehicle. Iím able to scratch the pavement without break-torqueing! In reality, this car is a pure cruiser that seemingly takes complete ownership of the open road. This is where she really shines - Iím sure youíll agree!! Itís unfortunate Ford-Lincoln-Mercury discontinued production of these fine vehicles.

Bottom line is Iím a MGM LSE enthusiast, but like me the carís TTL is rapidly approaching and intend to fully enjoy it as we do!!

Best Regards,

Rick McGee

<![if !vml]>

<![endif]>
10/4/15
Hello my name is Justin Connors and I came across your web page on Mercury Grand Marquis LSE's.
I have loved panther cars ever since I was a kid. I owned 3 town cars, 3 mercury's and one crown vic. I recently bought a 2002 Grand Marquis LSE in March and I came into a situation where I need a minivan more for hauling sound equipment. I was wondering if you know anybody looking to buy my car. It is very clean with 99k miles on it, 4 new 80k mile tires, new a/c compressor and accumulator. New brakes, steering knuckle has been replaced. Brand new starter. I hate to get rid of it but I did buy a van and this car is just sitting. I would like to see 4000.00 for it. You can email me or call or text me at .... I am in the Buffalo Ny area. Hope to hear from you soon thank you.
12/26/13
I saw your website. Another member of MercuryMarauder.net sent you info on a 2003 he purchased in Las Vegas recently. I looked at that same car, it is nice. I bought another LSE earlier this year and sold it to a friend of mine. When I had my friend at Ford print the build info it shows this car was built in May 8,2002. The VIN sequential starts with 610XXX. Which is right for a May/June 2002 build. (We have a Marauder built June 22,2002 starting with 622XXX.
According to info I read pre-production 2003s were mixed with the final run 2002s on the same assembly line. Based on build date I think this car is one of those. The in-service warranty date is Nov 8,2002. This makes sense because all pre-production cars are not sold until later in the model year after they have been looked over by a facility for Ford to make sure there are no assembly errors.
I saw [my] car on Craigslist here and when I saw the interior pic I knew it was a LSE. It was at a mechanics shop being sold for non payment. The guy didn't know it was an LSE so we haggled as if it was a reg GM. Git it for $3500 with 96K miles. It is in great condition. I was going to give it to girlfriends mom but a friend needed a car quickly and couldn't quite afford a Marauder.
As far as similarities , they are virtually identical in construction other than engine and trim. Same wiring and equipment. The Marauder is an LSE Marquis with stiffer front springs ( prob due to heavier engine) and a different steering rack (faster ratio on the MM).
Pre-production cars (May build 2003s) were held back from sale for quality control purposes. There were 50 pre production Marauders with 6000XX VINs built and held back about 6 months and sold in November 2002 after regular production units. Someone on MM.net posted documents from Ford the PP cars were sent to a vendor and inspected before release for sale in November 2002. This was done for liability reasons since the assembly line was still learning to build 2003s with new frames and suspension.
This makes sense for my LSE since Ford shows the warranty start date as November 8, 2002. Warranty start date is date of first sale.
I did find on this LSE the adjustable pedal assembly was installed and crimped the harness for the shift interlock when it blew the brake light fuse. When I looked at a June build Marauder I saw the harness had been rerouted over the pedals away from where it could get cramped during assembly. That was the purpose of the PP cars, to see if any problems come up during the build.
If you like, I'll get better pictures of thus LSE and more info to you. The car is in Seattle, WA until about Jan/Feb.
Take care and thanks for the info.
---
12/19/13
Hi
I like your Grand Marquis LSE. Looks great !!!
I tried to sign up on crown vic .net but they did not activate my account and tried re registering but they said a user already had that email address ((yes me )) ((( So it looks like i never will be able to register .))) I live in Canada about 20 minutes from the now closed Ford plant where they were made. I also have a 2003 LSE. My car is a silver birch 2003 LSE , grey leather ,(( all original )) , (( no mods .)) My dash is a little different than yours it has GRAND MARQUIS where your clock is. Also my front seats do not have storage pocket .
I thought you might like my fender badge idea. The 2013 GMC Terrain has a chrome c pillar badge SLE but you can move the letters. They are not attached to make LSE.
Again car looks great !! I am on the Marauder forum as MERCURY 2003 LSE
Jason
---
8/9/13

Hi,

I just bought a 2002 LSE and I love it!

My previous was a 1997 Grand Marquis and it was quite nice.......But this 2002 is great.

The LSE reminds me of my 1962 Pontiac Gran Prix! But the 2002 LSE is much more modern.

I plan to keep this LSE for a long while and I would like to know more about the build and history of this car. Are there any clubs or groups that can provide more information?

Now I have a feeling that my engine may be in trouble and every where I check the later engines are not interchangeable with the 2002. I would like to know what engine I can just drop in, in case my 2002 is bad. I

would like a 2006 or 2007 (or newer) to put in. This way I can keep this car longer.

If I got the later engine, I would opt for the transmission as well, to keep it all the same.

Another question, when did Ford/Mercury stop making the LSE (floor shift version)? That would be the car I hope to get in the near future. I just like the way my 2002 handles and rides.

I would like the Marauder, but it is mostly in Black and I prefer the lighter colors, mine is a forest green goldish color. I do not know the exact color name......anyway it looks good.

Thanks for listening.

Luckey
---

7/10/13
Hello!
I just bought a 2003 LSE, am very pleased so far! It came with Mich HydroEdge tires, but I see one of them has a bubble on the sidewall, so for best handling, I think I'll need to replace all 4. Do you still like and use the Turanza? My garage mech has Sumitomo Touring LSTs on his regular Grand Marq, and his boss uses them on his Crown Vic/Grand Marq taxi cabs. But he'll get me anything I want. Any recommendations?
Clay
---
11/14/12
Hello there Sir,
I'm the owner of a 2001 version of this automobile. I was working at Venice Lincoln Mercury in Venice, Fl. back in 2005 and sold the one and only '05 Grand Marquis LSE I saw, had to go all the way to Hollywood, fl. to pick it up. Are you selling your car? Please give me a shout, I'd love to chat with you about this?? Mine is about all wore out and I still Love It!
Harry

---
8/20/12


I have a 2003 LSE I we bought new off the showroom floor but it did not come with the ďLSEĒ emblem on the sides. Only states Grand Marquis LS at the rear. Was the ďLSEĒ side emblem on the 2003 and if so, where could I get on? Never noted it until I saw your post. No sun roof, no stacking CD and no heated seats but full size spare, full leather, 1/2 rag top roof and driver/passenger air bags. I guess all other option are in place. THANKS,

Theo

---

7/20/12


Hello My name is Denny and I live in New Jersey about 40 miles north of Atlantic City. I was surfing the web and found your great website about the LSE. We bought the same identical car back in January of 2003 and still own it. At the present time the car has about 108,000 miles on it. I was wondering if you had any additional information about the shocks on the car. I find that the ride has diminished somewhat over the past few years and I am looking into replacing all the shocks on the car. I am also considering a new set of tires. I am currently on my second set. I have had the rear shocks checked and they seem to be working properly, but the ride is not what it was compared to when it was new. Can you possibly help me with this problem ? thanks
---
6/18/12


I am buying a 2003 Grand Marquis. I believe it is an LSE, after reading your site. It has twin tailpipes and the floor shifter but no LSE badges on the front fenders.

Did you add yours? It is possible that the previous owner removed them, but I surmise that they did not come on the 2003's.

I have NEVER seen a Grand Marquis with a floor shifter. Mercury Marauder, of course, but never on a Grand Marquis.

The car is in another state and I will not see it in person for a few days. Your input would be appreciated. The dealership selling it has no idea what they have!

Sincerely,

David

---

4/23/12


your car.

honestly, you have t-h-e nicest mgm i have ever seen. the mgm spoke wheels are especially nice.

normally, the mgm has a to much chrome for me but it looks good on your car. what a keeper !!

cvn.net

user1
---
3/13/12


Where did you get your LSE badges? I'm looking for some, and the only one's I've seen are from a Suburu, and a Lincoln.

Also, do you know who might make replica floor mats? My car must not have the orginal floor mats, but I do have the orginal window sticker showing the LSE option :D


Thanks,
Joe
© RWG 2011, all rights reserved.